Jo forwarded this to me a while back but I never got around to blogging it: Health Versus Pork: Congress Debates the Food Bill.
It originally appeared in the Autumn 2007 Good Medicine magazine from the Physicians Committee for Responsible Medicine, but the primary point it makes is still valid today: government food subsidies are directly in conflict with public health needs.
Here's the key image, which I think speaks for itself: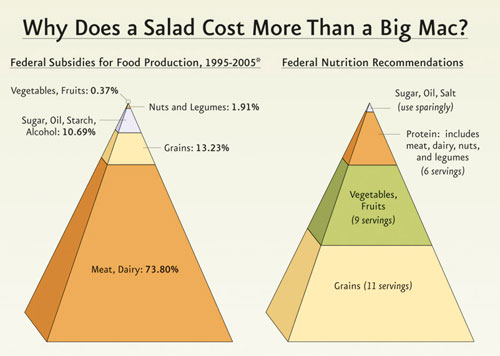 Unfortunately, it is difficult to change such policies in the face of the agribusiness lobby. People try:
When the House of Representatives debated the bill in July, PCRM, along with many other health and public interest groups, supported the Fairness in Farm and Food Policy Amendment, which was offered by Reps. Ron Kind (D-WI) and Jeff Flake (R-AZ). This amendment would have limited government subsidies of unhealthy foods, cut subsidies to millionaire farmers, and provided more money for nutrition and food assistance programs for Americans and impoverished children overseas.
But it is hard to break the habit of giving large government subsidies to large companies:
Unfortunately, politics doomed the reform effort. At the eleventh hour, House Speaker Nancy Pelosi (D-CA) feared that freshman representatives who voted to cut subsidies might risk losing their seats in farm states in the 2008 elections, endangering the Democratic majority. The reform amendment was defeated 117 to 309.
Hope those seats were worth it.