On our last night in London, we made our way over to Fulham for Blue Elephant Royal Thai Cuisine.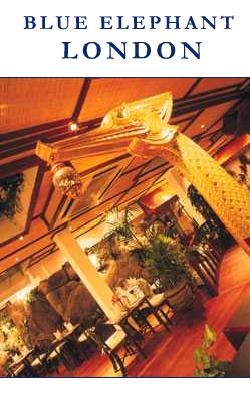 It's in a very unassuming part of Fulham, near the Fulham-Broadway tube station (map). It's a dark, low building and you can't really see any of the interior from outside.
Inside, it's a whole different world. Watch the 360-degree panorama to get a better sense of what it's like – you really lose track of being in Fulham, or London for that matter – as well as what time it might be outside. Complete immersion.
Although not strictly a vegetarian restaurant, they offer a full vegetarian menu including the "Pearls of Blue Elephant" which is a kind of sampler of the breadth of the menu.
The food was all fantastic, in preperation and presentation.
London's an expensive city for US travelers these days, and this was our most expensive meal of the trip – but worth every £.