I've spent a couple of weeks in London over the last month for work. It's frankly a great city to be a vegan in, with lots of ethnic cuisine which is easily veganized (Thai, Indian, Ethiopian) as well as a number of health all-vegetarian or all-vegan spots.
Perhaps the best central resource is the aptly-named Vegan London, which provides among things a Google Map of restaurants. (On the basis of this map I guess I need to try to stay closer to Tottenham Court Road next time).
Three specific tips I'll share from my most recent two trips:
Don't forget to request the airline meal.
Go out of your way for better food.
Don't overlook smaller or lesser known spots
Don't forget to request the airline meal.
Virgin Atlantic, which I've been flying recently as they go direct from Boston Logan to Heathrow on a schedule that is good for work, has what they call a "Vegan Vegetarian" meal if you request it when you book. The plain old "Vegetarian" option is generally full of cheese, but I've found the vegan meals quite good. They often do not have a vegan option for the "snack" that comes in the morning (if you're headed towards the UK overnight) or just before landing (coming the other way during the afternoon horus) so packing a light snack is a good idea as well. (Continental Airlines also has a "Vegetarian, Non-Dairy" option which is fairly reliable.).
Go out of your way for better food.
Based on the recommendation by the Vegan London list of restaurants, I ventured out a bit beyond my immediate hotel->work->hotel routine and got a wonderful dinner at 222 Veggie Vegan, in West Kensington. (I've been staying near Kengsington Olympia station, so in reality it was not so far an excursion – but it reminded me of the general principal that when I make the effort to go 3-4 tube stops away from the direct route, and aim for specific restuarants rather than making do, the food quality goes up several hundred percent).
At 222 VV, they have a 100% vegan menu, including beers and wines. (Apparently you can request dairy-based milk in some of the hot drinks; but everthing is clearly labelled). I had the Tofu Medallion Piccata with Spaghetti, which is described as "Marinated organic tofu slices, baked in oat crumbs, and served on a nest of our own tomato wholemeal spaghetti. It was very well prepared and excellent, but was overshadowed by dessert, the 222 Pancake: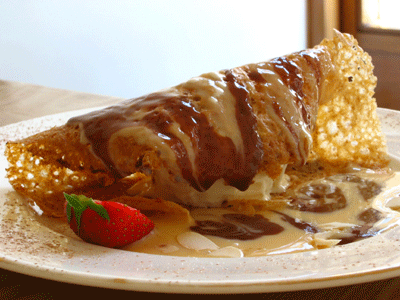 Best dessert I've had in my last two London trips – "Vanilla ice cream wrapped in a wholemeal pancake, topped with warm vanilla and chocolate sauce." Not sure if they're using rice-milk or soy-based ice "cream" but it was really good.
Serves me right for being too lazy most nights to go the extra mile that I only had dinner here one night.
Don't overlook smaller or lesser known spots
Even when I wasn't willing to deviate from a more or less straight line from work to hotel, excellent food was to be had. Between High Street Kensington station and Kensington Olympia there's a Thai place called Papaya Tree. It's a rather unassuming place from the outside – since it is in the basement, there's no view out onto the High Street, and you'll miss the fashion parade.
But the ambiance inside is actually not bad (a bit too well lit for my tastes) and the food is fantastic. Not a specifically vegetarian-focused place, but like most Thai restaurants they have a decent vegetarian section: 4 starters (including an excellent TomYum soup, as below) and 13 entrees, most of which are vegan or can be made vegan. (Skip the egg noodles, obviously, but also watch out for fish-based sauces).
The menu wasn't particularly well annotated, but the staff seemed quite knowledgeable about what's in and not in the various options.
Looking forward to the next trip – there are plenty more places I haven't yet tried.