While I was in town for my mother's 80th birthday, I was able to pick up tickets to see The Suburbs at Icehouse. (I guess this is the time of the 80s bands for me, having seen The Violent Femmes, U2, and now The Suburbs all in the course of ~4 weeks).
It's an all-GA venue, or at least was last Friday night – we didn't get there early enough to get any of the few seats along the railing to the balcony (what the venue calls "The Rail on the Mezz") but were able to stand more or less behind those seats. Not sure if those were reservable in advance – weren't available when I bought tickets – or if you just need to get there early enough for GA.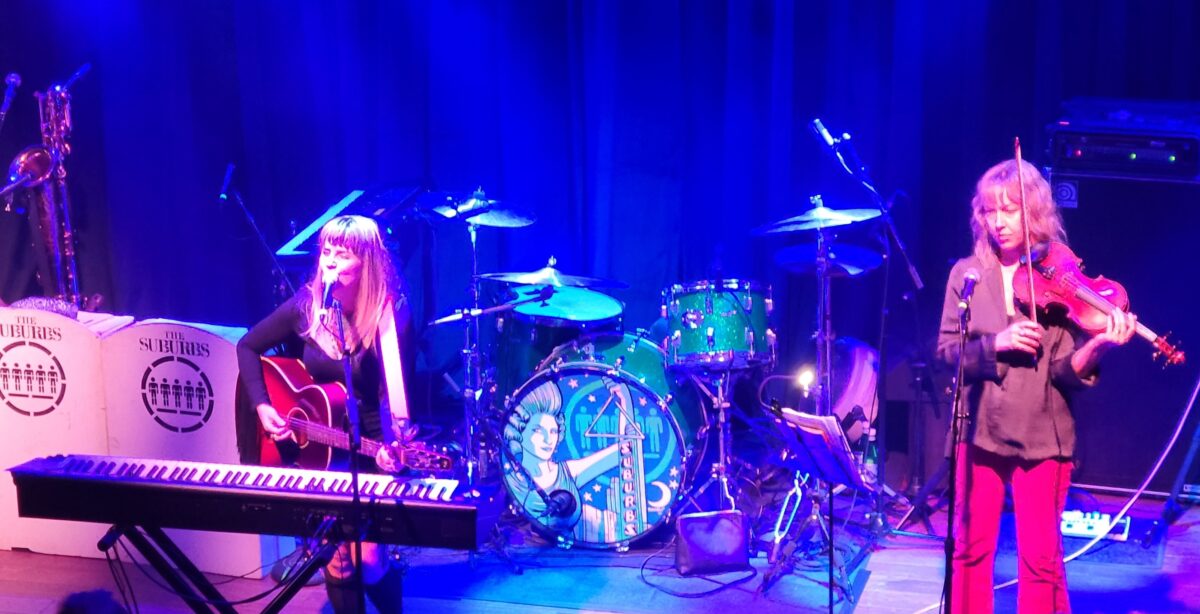 The opener, who was already much of the way through her set when we arrived, was Mary Bue, joined by Shannon Frid-Rubin from Cloud Cult. If the extended weekend weren't already packed with family activities, it would have been to get there early enough to see the whole set.

I wasn't sure who'd be onstage from the band – I believe from left to right in the front row that's guitarist Steve Brantseg (who was in Figures, and played on Suburbs album's Si Sauvage, Hey Muse!, and Poet's Party), Chan Poling (sorry for a photo with his back to the audience) on keys and vocals, Steve Price (from Rex Daisy, who also played on Suburbs albums since 2013) on bass, Janey Winterbauer (of Astronaut Wife) on vocals. In the back row from the right, Jeremy Ylvisaker on rhythm guitar, Hugo Klaers on drums, Stephen Kung on horns and keyboards, Rochelle Becker on baritone sax, and Max Ray on Sax.

You'd never know Steve Price wasn't an "original" or classic lineup bassist – he and Klaers were very tight.

The set list was varied – some newer material, including "Turn Your Radio On" from 2013's Si Sauvage, and some material I didn't know that's presumably from 2021's Poet's Party (I have a copy but haven't listened to it enough to know the songs).
They also rolled out some early tunes, including "Waiting" and "Chemistry Set" ("I'm into Chemistry and that's about it"). I got a few decent videos:
They did one two-song encore, and the crowd was calling for more, but it was not to be.